1-Year-Old Female, Golden Retriever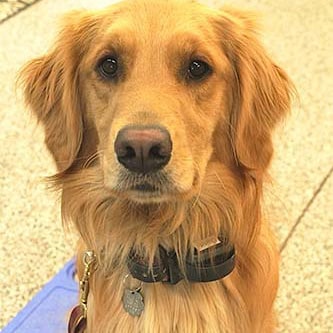 Giddy is an energetic and sweet Golden Retriever. Her family was struggling with her exuberance, massive pulling on the leash, distractions when out in public, jumping on guests and grabbing the hair of anyone with longer hair, barking at any noise she could hear outside, and inability to stay. They loved Giddy but were frustrated with her bad behavior and it was making it no fun to be around her.
Like many dogs, Giddy was just young and excitable and had not yet developed any self-control. Self-control is a muscle that gets better with use and is primarily developed during training. Puppies don't come out of the box with self-control. It is something we have to work on until they reach mental maturity which is around age two for most breeds.
Giddy responded nicely to our training technique with the vibrating e-collar and was soon able to stay quietly on her bed, not jump on guests, and be calm and quiet around the house.
Owner's Feedback
"I struggled badly with her pulling on the leash and not listening to me. I went through a half dozen harnesses, could never run with her because her speed and pulling would likely kill me and I always had to plan on a minimum walk length of an hour twice a day to even make a dent into her energy levels. That was until I sent her to BlackPaw for a two-week training camp. Bernadette and her team worked daily to teach Giddy leash manners, how to sit calmly in public places, how to listen consistently while off leash and a host of other common skills that make for a polite dog. Since I brought her home, it has become one of my great joys each day to walk Giddy because 99% of the time, it's more like walking with a friend, as opposed to maintaining a wild creature. She doesn't pull on the leash anymore and when it's safe, I can walk her off leash. Now I can take photos like this one. Also, thanks to her time at BlackPaw, Giddy now goes into crates and cars far more willingly and no longer demonstrates the anxiety she once had about cars. The training is pricey for sure, but the payoff has been worth it beyond words."
—Andrea D., Golden, Colorado