2-Year-Old Spayed Female, German Shorthaired Pointer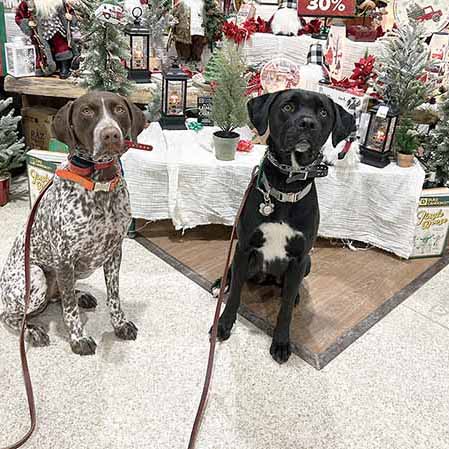 Maya is a sweet, sporting, hunting-bred dog who enjoys an active lifestyle with her family. They are young and energetic and take her on plenty of off-leash hikes, camping trips, and outings into the Colorado backcountry. Maya is very loved but has two major issues that aggravate her family. 1) She pulls like a sled dog. This is something they hadn't been able to get a handle on with prior training. 2) Separation anxiety. This was making it difficult to leave her home alone. They had purchased an e-collar for her but were hesitant to use it without formal training. Maya came for her training while her family took a long-awaited trip to Patagonia.
For Maya, we began with the basics, introducing the vibrating e-collar and helping her to understand what the sensation of vibration means. We use vibration as an attention-getter, bringing the dog's focus to the handler in a quiet, non-verbal way. Once the dog is focused, further instructions can be given with either verbal cues or hand signals, depending on the dog.
The time away from her family also helped Maya with her separation anxiety. Maya previously spent so much time with her people, that she didn't know how to spend time alone. This is something we worked on during training and that continued with her family with a new structure in their daily routines once she went home from training.
Owner's Feedback
"The team at BlackPaw is fantastic! The depth of skill, knowledge, and focus sets up dogs for success. The team built a wonderfully strong relationship with our GSP and the level of care for her was top-notch. She participated in a two-week board and train, and we couldn't be happier with the results. Her recall with distractions is near 100% and her separation anxiety is reduced a ton! After two years of trying everything that we could, she walks on a leash (or off-leash) with a perfect heel. No more pulling!
It's a massive credit to the team at BlackPaw who spent time getting to know us, getting to know our dog, and then spending time teaching us and reviewing how to maintain her new skills. The only advice I'd give is for people to book early because BlackPaw only takes a few dogs at a time and they get the attention, love, and training they need. I've already recommended BlackPaw to three other friends!"
—Kyle R., Boulder, Colorado