6-Month-Old Female, Miniature Australian Shepherd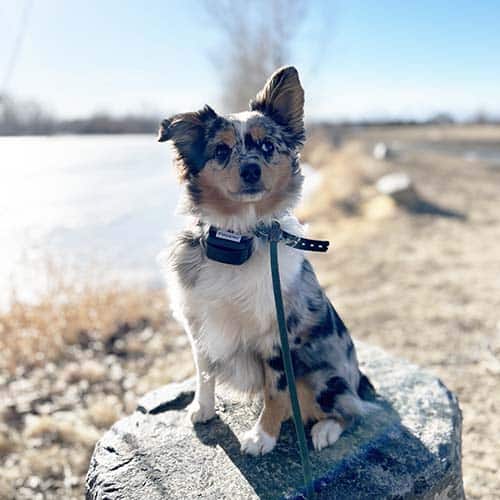 Pepper is an absolutely adorable little ball of fluff. When her family brought her home from the breeder at eight weeks old, they quickly noticed she was different from their other dog. Pepper was very shy of the family's young children and their friends both young and old. She seemed extraordinarily weary of new people and had begun growling or snapping if anyone other than mom or dad picked her up. The family was understandably concerned and feared Pepper would grow into an aggressive dog, potentially biting someone, which they could not tolerate with small children in the house.
Once she was old enough for our boarding school program at six months of age, Pepper came for intensive training and rehabilitation. This included teaching her to trust her handler, follow their guidance, and allow her human partner to advocate for her when she was feeling shy. We also took Pepper out of her comfort zone daily, exposing her regularly to new people, places, and situations. Although a shy temperament is primarily a genetic trait, early intervention including proper socialization can greatly improve the dog's outcome. During the first few months of life, the dog's brain is like a sponge, developing new neural pathways of what is normal in their environment. Neutral or positive experiences can help wire the brain to accept more regular situations as normal and can help create more appropriate responses from the dog.
Pepper made amazing progress and increased her confidence greatly!
Owner's Feedback
"I'm beyond happy with and impressed with all aspects of this training. Bernadette communicated with us the entire time, sending pictures or little videos throughout the two weeks. She also sent home a training book and emailed lots of videos to help us prepare for her return home. Upon pickup, we had an extensive lesson to help us learn how to use our new tools and continue her training. Now that she is home, I cannot stop talking about how happy we are that she went to this training. She is an absolute joy to have in the home and outside. She stays on her bed while I cook dinner, she walks beautifully when I take her into town, she doesn't charge the door when people come over, no jumping… I could go on and on. We took her to a park with the kids today and she played fetch off leash and stayed close to us and we felt completely confident in her ability to not run away. Aside from the wonderful training, Bernadette and her team are an absolute joy to work with and I know that my pup loved her time there and developed such a bond with Bernadette and the other trainers. If I could give ten stars I would!"
—Allie F., Louisville, Colorado