7-Month-Old Female, Pit Bull Mix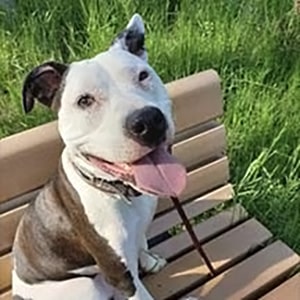 Sammy had a tough start to life. She was rescued in New Mexico where she was a stray on a reservation. She was extremely malnourished, underweight, and had mange and rickets. Her family did a wonderful job bringing her back to health and giving Sammy tons of love. As she began feeling better and got closer to maturity, Sammy started showing some very concerning behaviors. She would lay on her mom's lap at home and guard her from anyone who entered the house. She became very protective and aggressive from guests and on her evening walk, she began lunging and barking at others who passed by. Sammy's family was afraid it was just a matter of time before she bit someone.
Sammy came for our more intensive, three-week boarding school program. We began her rehabilitation by not coddling her. Her family was stuck in the past with her old story of neglect. Sammy had developed serious fear and anxiety and her family was not helping her move past her old history. They were still treating her like she needed rescuing. It was time to move on! Rescues should be treated like any other dog. We have the same expectations of them for calm, respectful behavior and provide clear rules and boundaries. Sammy learned to walk politely and ignore strangers. Calm, confident handling conveys to the dog that guarding the handler is not necessary. She learned to stay on her dog bed and not crowd mom by climbing on her lap. By creating some distance, Sammy no longer needed to guard her mom. Changing the mindset of both the dog and the person is the best way to shift the relationship. Sammy's family had lots of changes to make when she came home but their work paid off with big rewards.
Owner's Feedback
"She was an out-of-control handful and I could no longer trust her or take her out without a lot of frustration and worry. That's when we realized how much we needed help. Bernadette and her amazing staff to the rescue! I'll admit it, leaving her for three weeks was not easy. I was apprehensive and an emotional wreck. Bernadette's text messages and videos helped but it was still a very long three weeks. I worried things would never be the same. Sammy would change and our relationship might suffer. Oh, how wrong I was! When we picked Sammy up, she had changed but only for the better and our bond was only going to get stronger from that point. She was responsive, calm, and seemed so much happier in general. But Sammy wasn't the only one who received the training, we were trained as well. We learned how to help Sammy be her best, how to read her cues and level of anxiety so that we could respond in ways to de-escalate her fears. We learned how to help her relax and how to ultimately control her reactions. It is impossible to deny, she is a happier dog, and we definitely have a better relationship because of it. Thanks to Bernadette and BlackPaw for giving our family such a precious gift.. The best version our Sammy can be!"
—Jodi, Lafayette, Colorado